During a divorce or legal separation, one of the first things that needs to be decided is what will happen to the family residence. Since California is a community property state, in most cases each party will receive half the value of the asset – in this case, the family home.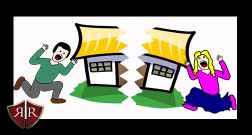 Most divorcing couples do not continue to live together after the divorce, so how is the home divided? One party could decide to continue to reside in the family home. If this is the case, the party who is remaining in the home needs to buyout the interest of the person who is moving out. For example, let's say that a divorcing couple owns a home valued at $600k with a mortgage of $450k. This would leave $150k worth of equity in the home, or $75k for each party.
The party who remains in the family residence would need to make an equalization payment to the other party in the amount of $75k. At this point the home would need to be refinanced and put in the name of the party who is staying in the home.
If one of the parties is unable to buy the other out, the family residence must be sold. The proceeds from the sale of the house will be split equally between both parties.
Going through a divorce when major assets, such as a family residence, are involved can get complicated and it's best to have an experienced attorney on your side. To meet with an attorney who will help you protect your important assets, contact Richard Ross Associates today – they specialize in family law so you don't have to.