Are you and your spouse considering mediation for your divorce? Not sure if mediation is right for you? Richard Ross Associates can help you with these questions.
It's important to mention that mediation is not marriage counseling. A mediator's job is to attempt to bring the parties together in making decisions on important issues such as the division of assets, child custody, and spousal support. They are not there to reconcile a marriage.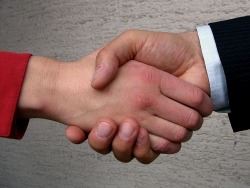 Mediation might be a good option if the parties have limited resources available. Although both parties may still decide to hire attorneys to advise them throughout the mediation process, chances are that the expense of these attorneys would be far less than if litigation was necessary. There's always a chance that mediation might fail and litigation is inevitable, but many couples who attempt mediation are able to successfully complete it.
In some cases a divorce can occur amicably and the parties may even remain friends. Mediation would definitely be a good option. An experienced mediator, preferably one that is a family law attorney, would be able to make sure each party's rights are protected and facilitate a healthy dialogue to settle all important matters. Those who are going through an amicable divorce may be tempted with a do-it-yourself divorce, but this isn't normally recommended. Mediators are trained professionals who can make sure everything is completed and equitable.
Another scenario might be if you don't have a lot of assets to divide but can't decide on a custodial arrangement for your children. A mediator can assist both parties in agreeing on a schedule that is in the best interest of the child(ren).
Divorce doesn't always have to be only fighting. Choosing mediation could mean less of a headache for all of those involved. Call Richard Ross Associates today for more information on how our qualified attorneys can help you.