It can't be stated enough how important the use of experts is throughout the divorce process. Experts will be used to determine the true valuation of afamily residence or business, provide accurate tracings on finances that are used in both separate and community property bank accounts, and even provide opinions as to what is in the best interest of the child(ren).
Mediation, although an amicable process, is no exception to this. In fact, it's just as important in mediation to make sure that assets are properly evaluated and accounted for as it is during divorce litigation. The fiduciary duty between a married couple still exists even if the divorce is being settled through mediation. Even if both parties agree as to the value of the family residence, it is still best practices to have the home professionally valued by a real estate expert.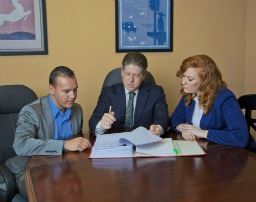 Additionally, just because the parties are in mediation, and attempting to be amicable, doesn't mean that they're going to agree on everything. Sometimes having the opinion of a third party expert to rely on helps the mediator to bring both parties together on a reasonable settlement.
At Richard Ross Associates we are proud to work with a team of highly trained experts who we know we can count on to provide relevant and appropriate opinions when hired by any of our clients. To take it one step further, our relationships with our experts are so close that we are usually able to help clients out at almost a moment's notice, often meeting with experts outside of business hours, on nights and weekends. We feel it's important to have strong relationships with our experts in order to provide the best possible service to our clients. For us, our experts are just an extended member of our team.
In a typical mediation process experts will be brought in towards the beginning so that they are able to complete their work and provide their professional opinion in time for it to be of use when the parties really get down to negotiations. This is why the first meeting or two of the mediation is so important, and it's necessary for both parties to provide as much information and documentation as possible. The less time an expert has to spend actually looking for information, the faster (and cheaper!) the process will be. An added bonus of using experts during the mediation process as opposed to divorce litigation is that the expert can usually be shared between both parties, which helps in keeping the costs down.
Even if you have considerable assets, mediation can be a solution for you, especially when you have the qualified at attorneys at Richard Ross Associates handling your case. Want more information on mediation and our outsanding team of experts? Give us a call today!.